The Sydney Royal Easter Show Collection
Production Credits
Director
Rebel Penfold-Russell
Producers
Rebel Penfold-Russell
Andrena Finlay
Director of Photography
Stuart Quin
Sound
Bob Clayton
Pat Fiske
Editor
Kim Moodie
Assistant Director
Stephan Elliott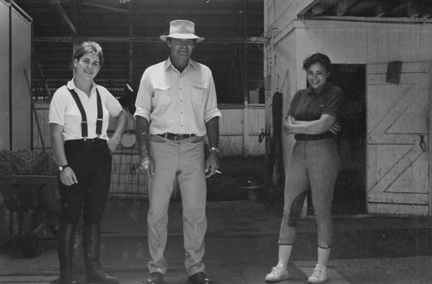 A Pocket Full of Minties, Showies & Lizzie's Royal
A Pocket Full of Minties is a ride through the uniquely Australian institution of the Royal Easter Show. The documentary follows a row of child equestrian competitors and a veteran ring steward through 12 days of exhibition, competition and carnival at the Bicentennial Royal Easter Show. But how long will the Show survive in our urbanised multicultural society, which is beginning to view the showgrounds more as the answer to Sydney's real estate crisis?
Showies The Sydney Royal Easter Show has many amazing and varied attractions and people. This collection showcases the various aspects of the traditional show, taking a very personal journey through the equestrian events, sideshow alley and a touching account of one woman's last ever show
Lizzie's Royal In 1997 the Royal Easter Show held it's last show at the Moore Park Showgrounds. It was also the last time that Lizzie, a show enthusiast and veteran would ever see the show, early that year she was taken by cancer. In Lizzie's Royal the veterans of the Royal Easter Show pay tribute to two of their long time friends and icons, the Moore Park Showgrounds and Elizabeth Mary Gage Williams.